Expertise
CIeNET delivers comprehensive technical services based on a broad range of functional and technical skills with 20+ years of experience and competency in the areas of Telecom, Mobile, Embedded, IoT, Automotive and Enterprise Solution. We provide cutting-edge technology and engineering excellence, using the legacy and innovation.
CIeNET is committed to  investing in the latest technologies. We participate in the research and technology development of Blockchain, Artificial Intelligence, Autonomous Driving, Big Data, Cloud Computing and other directions, and successfully apply them into practical projects to create value for customers.
Telecom
CIeNET started its business from the partnership with leading telecom service providers and has helped them deliver software for network products including wireless communication, data communication, transmission and add-on services. We successfully delivered the first Number Portability system in China.
For years CIeNET has been working with leading global telecom companies accumulating a solid background in bringing trendy technological innovations for specific needs of telecom businesses. We have acquired and established expertise in providing telecom companies with premier solution services, including:
Wireless and Broadband Access Network : 2G/3G/4G/5G Base Station, 2G/3G Controller and Radio
Core Networks: Mobile Switch Center, Gateway, Evolved Packet Core, IP Multimedia Subsystem (IMS), Proxy Server, and Intelligent Networks
IP Networks: IP Router and EPON/GPON
OAM System: Element Management System (EMS) and Network Management System (NMS)
Others: Billing and Settlement System and Value-Added Services

Mobile
CIeNET's competence in mobile domain covers all layers of mobile device software system from driver, firmware, framework to application. We've successfully helped our customers with software development for smartphones, tablets and wearables including iOS, Android, Windows and other proprietary operating systems. In addition to the mobile application development experience, we cover the following areas: Social Networking, Location-based Service, Books, News, Travel, Multimedia, Instant Messaging, Productivity, Healthcare, Business/Enterprise, Lifestyle, Smart Home,Travel,E-commerce,Transportation, etc.
In addition to development services, CIeNET Software Test Centers focus on providing total test solutions for mobile domain by manual test and auto test using our proprietary automated test system.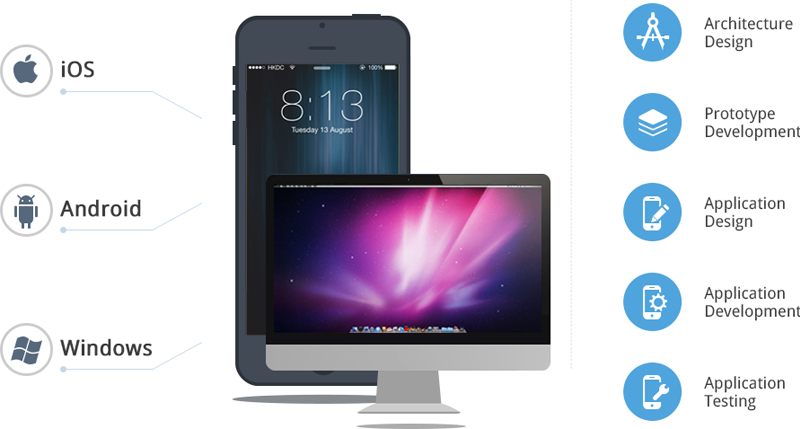 Embedded
CIeNET is an industry leader in developing and testing mission critical embedded system software for automotive electronics and telecom products. By reusing stable and feature-rich middleware, CIeNET has helped customers develop different types of applications such as Set-Top-Box, Home Gateway, Postage Meter, Smart TV, Safety Devices, and IoT Devices. We also have long-term engagements with world leading semiconductor manufacturers and have built strong competences with popular architects including ARM, MIPS, PowerPC, and x86.
CIeNET's embedded system development center has a large pool of talented engineers who have extensive experience with microprocessors, RTOS, middleware, embedded application development and testing. Through our embedded system development center, CIeNET provides customers with best in class services, from product development to product verification and testing.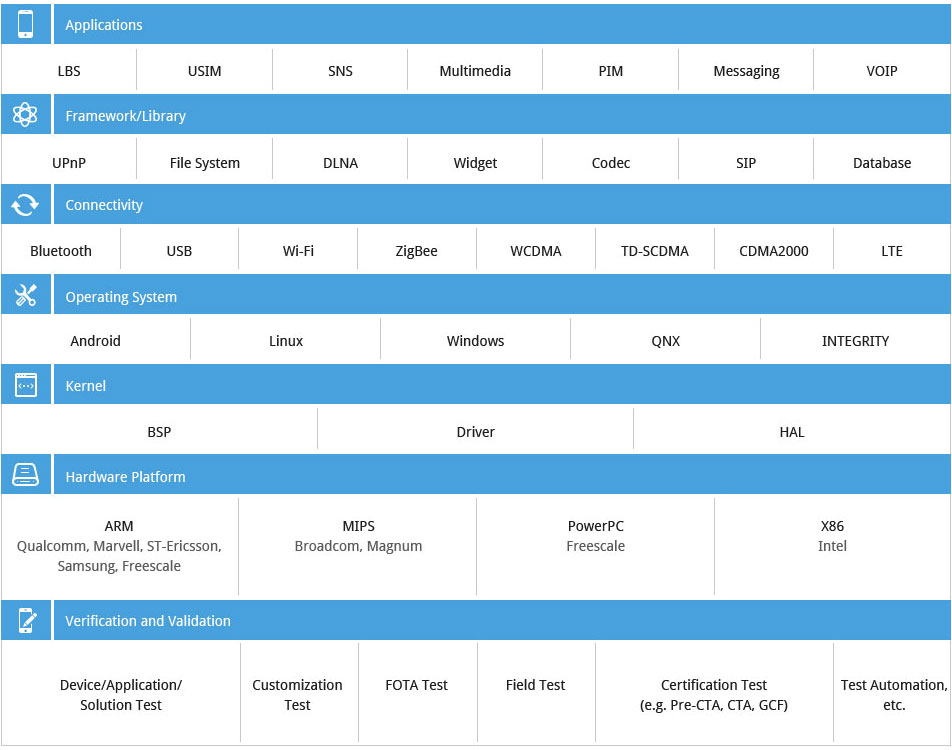 IoT
Internet of Things is regarding how devices, machines, objects, and even animals and people are connected and communicate. IoT requires end to end solutions in key technologies such as connectivity, security, system scalability, human machine interfaces, big data processing, and so on. CIeNET's competence in IoT domain covers from back-end service to device development, from communication protocols to mobile applications, from data transmission security to data analysis. Our rich experience in multiple IoT domains makes us a premium IoT end-to-end solution provider.

Back-end Service:
Messaging Server, Device and User Management Application, Data Collection and Processing
Cloud Deployment and Management
Device Development:
Smart Gateway, Postage Meters, Power Meter, Smart Phone Development, and In-vehicle Infotainment System
Firmware/Driver Development and Integration, Protocols, and Applications
Connectivity:
Near Field Connectivity: BlueTooth, ZigBee, WIFI
End to End Communication Path: TCP/IP, TURN/STUN
Communication Protocols:
Application Communication: HTTP, REST/SOAP
Real Time Communication: XMPP, SIP, MQTT
Mobile Applications:
Connected Vehicles, Social Network, Smart Home Appliance Control, WeChat Remote Control, and Ride Sharing Application
Data Security:
Transmission and Storage Security
User Single Sign-on, Authentication, and Authorization
Data Analysis
Hadoop Data Analysis Platform
User Behavior Analysis
Data Reporting and Business Intelligence
Automotive
CIeNET understands the fast growing automotive market for infotainment and connected devices. For years, we strive to bring drivers, road and vehicles onto an integrated platform through its comprehensive domain expertise. We have built long-term partnership with the world's leading automakers and has successfully helped with the development of IVI (In-Vehicle Infotainment), back-end cloud service and mobile companion applications on both Android and iOS platforms. CIeNET's automated test system for IVI provides simulation on CAN/LIN BUS, Ignition, Cluster and other in-vehicle environment helps automakers speed up time-to-market and improve efficiency. To recognize CIeNET's R&D competence in the automotive sector, International Association of Outsourcing Professionals (IAOP) has named us a TOP5 Leader in Automotive.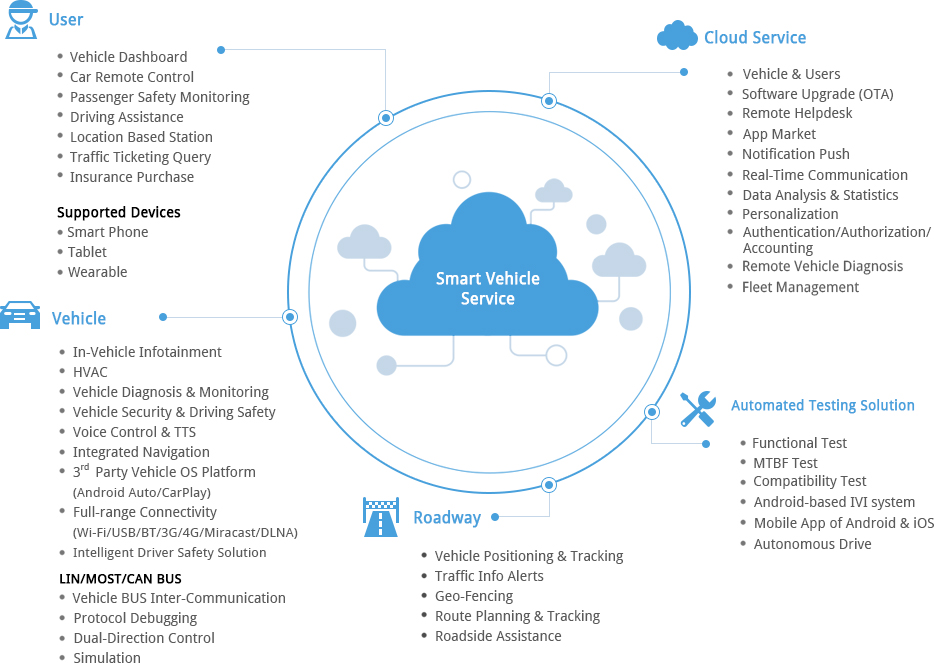 Enterprise Solution
CIeNET helps customers develop a large range of comprehensive turnkey solutions including Office Automation System, Business Intelligence System, Asset Management System, Manufacturing Execution System, Enterprise Private Cloud Management, Training Management System, Team Collaboration System, Online Conference System, E-commerce System, AI-based Sport Analysis, Intelligent Operation System for Rail Traffic,Securities Solution, Avatar Video Messaging Solution, Network Performance Analysis and Management, Multi Cryptocurrency Exchanges Transaction Platform . CIeNET's proprietary service development platform, TrueConverge Application Server Platform (TAS), enables service providers in different industries to deliver innovative web-based solutions with high software quality, less development cost, rapid development cycle and high operation efficiency.
Features of TAS include: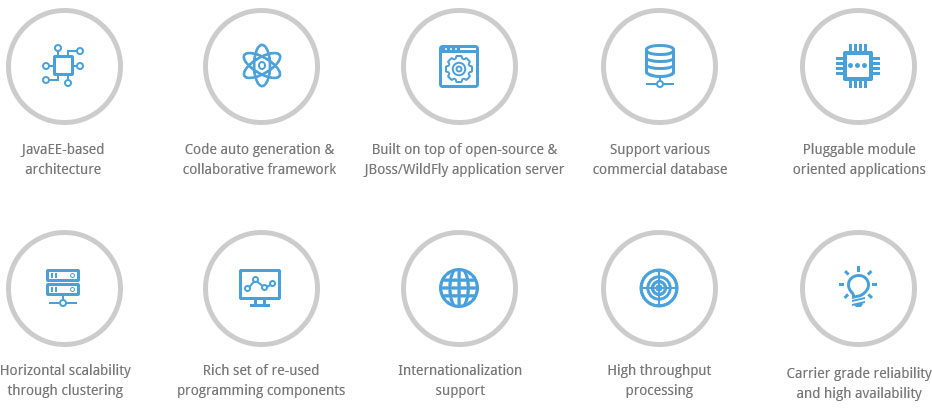 TAS is designed to drastically reduce time-to-market, increase revenue and ensure a highly customizable and maintainable future-proof system. With TAS, we can help customers build up their enterprise solutions much faster and with less effort.