Detroit, MI – October 17, 2017
CIeNET, a global technology service provider of technical consulting, software engineering, and innovative solutions, is pleased to announce launching of CIeNET Automated Test System for Automotive (C-ATS AUTO). It is a flexible and easy-to-use automated testing platform designed for automotive OEMs, Tier 1s, and companies in the infotainment products and applications development ecosystem.
Automated Testing Made Easy – C-ATS AUTO
C-ATS AUTO is an advanced automated testing system for the verification of automotive Infotainment Systems. It offers Enterprise and Standard Editions addressing the different needs of large distributed enterprises and small work group organizations. The Enterprise Edition of C-ATS AUTO provides a powerful Test Management System (TMS) framework supporting test script control and management functions such as: test resource management, distributed test execution, intelligent task dispatching, and 3rd party system integration. The Standard Edition, on the other hand, is designed for small group collaborations without complicated test environment multi-variants setup and configurations. Its browser-based automated testing platform allows for easy test script deployment, immediate test result collection and analysis. It also includes a visual debugging tool for easy test script development.
Both Standard and Enterprise Editions offer complete simulation and feature-rich functionalities allowing extensive testing in the form of Smoke, Sanity, Performance, Integration, Subsystem, System, Verification, Security, Safety, and Back-Office Connectivity Testing.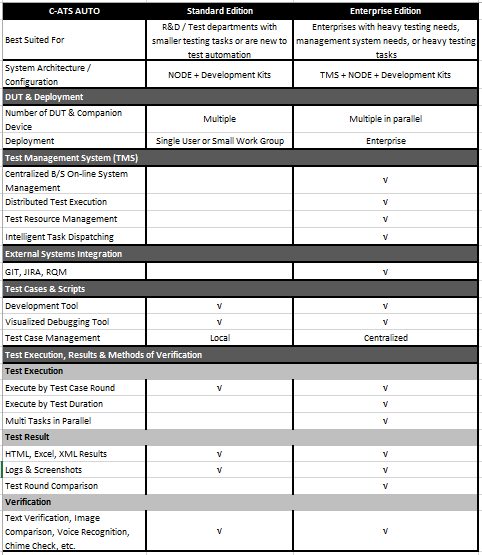 (C-ATS AUTO Standard Edition VS. Enterprise Edition)
"The innovation and rapid proliferation of advanced in-car connected technologies are creating new challenges for automotive OEMs and Infotainment products and application development companies. Infotainment Systems become the heart and soul of the vehicle controlling HVAC, audio, navigation, cameras, plus ever-increasing sensors and intelligence. CIeNET C-ATS addresses the challenges of how to maintain the quality, security, and integrity of such integrated system in a multi-model year design and development environment cost-effectively." said Michael Yuan, Executive Vice President, CIeNET International.
CIeNET is proud to showcase C-ATS AUTO, its advanced automated testing solution for next gen vehicles at the 2017 NMSDC conference and Automotive Testing Expo in Detroit in October. Please stop by and see our live demo.
NMSDC Conference & Business Opportunity Exchange
Date: October 23rd, 2017
Venue: Cabo Center, Detroit, MI, Booth #1109
Automotive Testing Expo
Date: October 24th – 26th, 2017
Venue: The Suburban Collection Showplace, Novi, MI, Booth #C206
CIeNET Management Presents at the Expo
Presentation Topic: Test Automation and Management for the Next Generation Vehicles
Date: October 24, 2017 1:00 PM
Venue: Automotive Testing Expo – Technology Forum
About CIeNET
CIeNET, an ALTEN Group Company, is a global information technology software development, consulting, and solutions company. Founded in 2000, CIeNET focuses on mobility, embedded systems, and enterprise software technologies delivering services from development centers with customer support offices in North America, Europe, and Asia. CIeNET provides innovative solutions from concept to reality by helping customers bring ideas and products to market quickly and cost-effectively. CIeNET has been recognized by the International Association of Outsourcing Professionals (IAOP) as a Global Outsourcing Top 100 company fourteen times in the past years and has received honors from Gartner, IDC and ChinaSourcing. CIeNET has ISO9001 and 27001 certification and CMMI3 certificate with Agile-based processes. For more information, visit www.cienet.com.
Press Contact
Marketing Department
010-84170088