Chengdu – Mar. 29, 2018
CIeNET, a leading global technology service provider of technical consulting and software engineering solutions was invited to the AmCham Spring Mixer and New Member Welcome Party in Chengdu. The new members of AmCham Southwest included 28 companies from diverse industries, such as IT, manufacturing, service and consulting, aviation, etc. Laura Wang, VP of Sales & Marketing Department of CIeNET Technologies, attended the new member welcome party and introduced CIeNET to the old and new members of AmCham. Laura demonstrated CIeNET's professional services and solutions, as well as domain expertise in Telecom, Embedded, IoT, Automotive, Mobile and Enterprise Solutions. New members also received AmCham's member certificates at the event.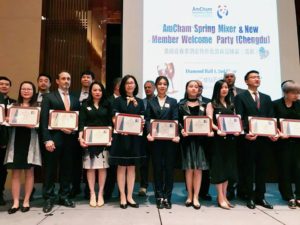 Headquartered in Beijing, China, CIeNET has global offices in Chengdu, Hangzhou, Shanghai, Nanjing, etc. Since the establishment of the Chengdu R&D Center in 2011, CIeNET has been engaging with the leading IT companies for the technical services in Chengdu and the western region. To better serve our growing customers base, empower closer collaboration and innovation in western China, CIeNET expanded its Chengdu R&D center and moved it to a new location last Oct. The new Chengdu R&D center continues to support customers in western China and provide professional technical services and solutions. CIeNET has cultivated an increasing client base comprised of Multinational Fortune 500 companies through high-quality delivery, flexible business models, and built up long-term relationships with Chengdu tech giants including Lenovo, Nokia, Ericsson and Wind River, etc.
About AmCham China
The American Chamber of Commerce in the People's Republic of China is a non-profit, non-governmental organization whose membership comprises more than 3,300 individuals from 900 companies operating across China. The chamber's nationwide mission is to help American companies succeed in China through advocacy, information, networking and business support services. AmCham China is the only officially recognized chamber of commerce representing American business in mainland China. More information please visit: www.amchamchina.com .
About CIeNET
CIeNET, an ALTEN Group Company, is a global information technology software development, consulting, and solutions company. Founded in 2000, CIeNET focuses on mobility, embedded systems, and enterprise software technologies delivering services from development centers with customer support offices in North America, Europe, and Asia. CIeNET provides innovative solutions from concept to reality by helping customers bring ideas and products to market quickly and cost-effectively. CIeNET has been recognized by the International Association of Outsourcing Professionals (IAOP) as a Global Outsourcing Top 100 company fourteen times in the past years and has received honors from Gartner, IDC and ChinaSourcing. CIeNET has ISO9001 and 27001 certification and CMMI3 certificate with Agile-based processes. For more information, visit www.cienet.com.
Press Contact
Marketing Department
010-84170088