Hangzhou, October 19th, 2020
The 11th ChinaSourcing Summit (the Summit) organized by China Council for International Investment Promotion (CCIIP) was held in Hangzhou. At the Summit, CIeNET was recognized as Top 10 Foreign-invested Digital Service Providers in China and China Digital Service and Leading Service Providers 2020.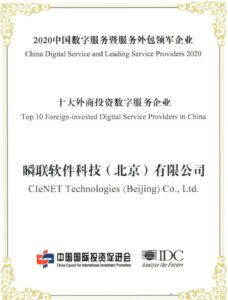 The Summit was co-sponsored by the Ministry of Commerce and Hangzhou Municipal People's government, jointly organized by CCIIP and Hangzhou Municipal Bureau of Commerce. The theme of the Summit was to drive business value via digitalization and create an intelligent society. By the outbreak of COVID-19, traditional service trade faced huge challenges; however, there were increasing demands for outsourcing services. The Summit took a future-forward look at potential post-COVID-19 digitalization trend and provided insights to service providers how to innovate in the post-epidemic era.
Leveraging the domain expertise in mobility, IoT and big data, CIeNET helped Wuhan sub district office develop an epidemic data recording and analysis platform to collect, analyze and track patients with suspected or confirmed of COVID-19, close contacts and general febrile patients. "CIeNET engineers rapidly developed the platform within a month and helped Wuhan community staff effectively track patients and analyze data," said Leon Zheng, Engineering VP of CIeNET.  CIeNET will keep investing on emerging technologies and provide innovative services and solutions to customers.
About CIeNET
CIeNET, an ALTEN Group Company, is a global information technology software development, consulting, and solutions company. Founded in 2000, CIeNET focuses on mobility, embedded systems, and enterprise software technologies delivering services from development centers with customer support offices in North America, Europe, and Asia. CIeNET provides innovative solutions from concept to reality by helping customers bring ideas and products to market quickly and cost-effectively. CIeNET has been recognized by the International Association of Outsourcing Professionals (IAOP) as a Global Outsourcing Top 100 company fourteen times in the past years and has received honors from Gartner, IDC and ChinaSourcing. CIeNET has ISO9001 and 27001 certification and CMMI3 certificate with Agile-based processes. For more information, visit www.cienet.com.
Press Contact
Marketing Department
010-84170088