September 2021
CIeNET, the leading global technology service provide for technical consulting, software engineering, and software solutions, announces the grand openings of its three new research & development centers in Changsha, Shanghai and Nanjing. The new offices' addresses are:
Changsha: Rm 2202, Building 2, Area C, Wanda Plaza, Kaifu District, Changsha
Nanjing: 3F, Building F, No. 19, Ningshuang Rd., Cloud Security City, Yuhuatai District, Nanjing
Shanghai: 8F, Building D, No.1, No. 1068, Tianshan West Rd., Chang Ning District, Shanghai
Changsha's new R&D center is CIeNET's first office and the start of a new chapter in this city. These 3 new offices are located in the core area of the software industrial park and commercial zone, and they bring CIeNET many advantages to develop the software and telecommunication industries.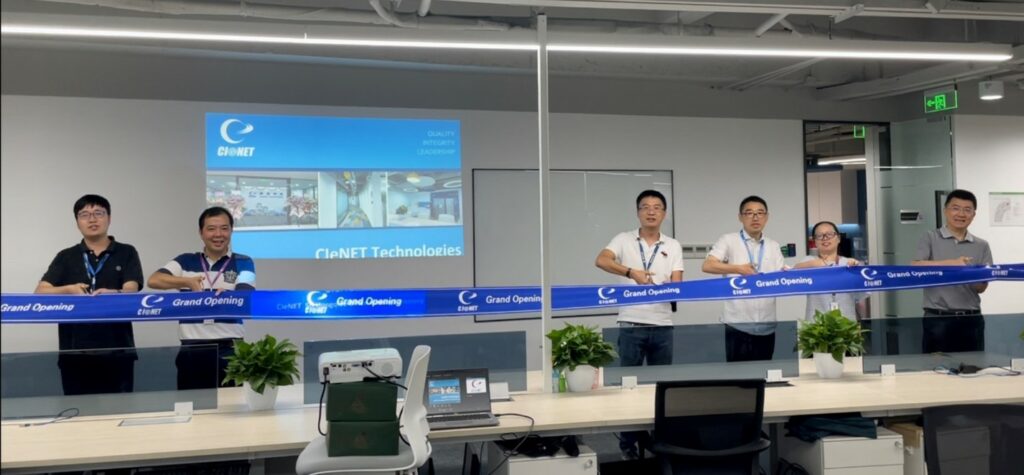 (CIeNET's grand opening celebration for Shanghai's new R&D center)

(CIeNET's grand opening celebration for Nanjing's new R&D center)
CIeNET has over 21 years' domain expertise in Telecom, Embedded, IoT, Automotive, Mobile and Enterprise Software solutions, with the fast growth, new R&D centers' establishment will provide continuous services of the development and testing. CIeNET and customers expressed the recognition of the long-term co-operation and expectation for the future at the new office opening ceremony. CIeNET is committed to provide customers the high quality and comprehensive technical service solutions.  CIeNET provided the software solutions for the leading companies in many industries at Changsha, Shanghai, and Nanjing through its experiences in Telecom, IoT, Mobile, Automotive, Cloud, AI, etc. Until 2021, CIeNET has 16 Technology and Delivery Centers globally, and become the important partners for Fortune 500 clients.
About CIeNET
CIeNET, an ALTEN Group Company, is a global information technology software development, consulting, and solutions company. Founded in 2000, CIeNET focuses on mobility, embedded systems, and enterprise software technologies delivering services from development centers with customer support offices in North America, Europe, and Asia. CIeNET provides innovative solutions from concept to reality by helping customers bring ideas and products to market quickly and cost-effectively. CIeNET has been recognized by the International Association of Outsourcing Professionals (IAOP) as a Global Outsourcing Top 100 company fourteen times in the past years and has received honors from Gartner, IDC and ChinaSourcing. CIeNET has ISO9001 and 27001 certification and CMMI3 certificate with Agile-based processes. For more information, visit www.cienet.com.
Press Contact
Marketing Department
010-84170088