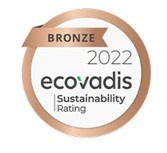 September 2022, Beijing
In September 2022, CIeNET was highly recognized by EcoVadis with a Bronze medal in sustainability management after achieving an overall sustainability assessment score of 54/100. The score and Bronze medal recognition are based on CIeNET's outstanding performance in corporate social responsibility and sustainable development. This is the first time that CIeNET has been awarded the Bronze medal and it also makes CIeNET ranked in the Top 50% of all companies that participated in the EcoVadis evaluation globally. With this EcoVadis Bronze medal, CIeNET continues to show its customers and partners its commitment to environmental and social sustainability.
CIeNET strives to best respond to customers' needs and continuously participates in the sustainability assessment conducted by EcoVadis every year in four dimensions: Environment, Labor and Human Rights, Business Ethics, and Sustainable Procurement. CIeNET also tries to improve the transparency of corporate social responsibility practices through the reliable evaluation of EcoVadis, so that customers can fully understand CIeNET's environmental and social performance. At the same time, CIeNET is willing to promote environmental innovation in our supply chain management, help improve the quality of suppliers' CSR management system, and build a sustainable supply chain ecosystem.
CIeNET pays great attention to the sustainable development of enterprises with economy, society and environment in mind, and our leaders take business ethics and sustainable development as key parts of our strategic core development, so that all employees agree with and abide by the values of the group. We encourage, support, and guide them to actively participate in related construction, and we apply the concept of sustainable development to various social problems. At CIeNET, we constantly fulfill our corporate social responsibility by advocating energy conservation, reducing consumption, eliminating waste, improving energy utilization, and continuously improving internal management systems. In completing the preparation of our CSR report and EcoVadis assessment, CIeNET has also comprehensively improved our CSR management level. With the joint efforts of various departments, CIeNET has further enhanced and improved the key areas of Environment, Labor and Human Rights, Business Ethics and Sustainable Procurement in many dimensions (including policies, measures, performance assessments, etc.).
With the great support of each team and the active participation of CIeNET staff, CIeNET, as a responsible corporate citizen, will achieve better results in the future, better fulfill its commitment to environmental protection and pass on trust to its partners.
About EcoVadis
EcoVadis helps enterprises to manage potential risks, promote environmental innovation in the global supply chain management of enterprises, and improve the sustainability and social responsibility performance of enterprises through a reliable and globally applicable "Supplier CSR Rating" system. The assessment covers issues related to Environment, Labor and Human Rights, Business Ethics, and Sustainable Procurement. These problems are based on international CSR standards, including United Nations Global Compact Principles, International Labour Organization (ILO) practices, Global Reporting Initiative (GRI) standards, and ISO 26000 standards, etc.
About CIeNET
CIeNET, an ALTEN Group Company, is a global information technology software development, consulting, and solutions company. Founded in 2000, CIeNET focuses on mobility, embedded systems, and enterprise software technologies delivering services from development centers with customer support offices in North America, Europe, and Asia. CIeNET provides innovative solutions from concept to reality by helping customers bring ideas and products to market quickly and cost-effectively. CIeNET has been recognized by the International Association of Outsourcing Professionals (IAOP) as a Global Outsourcing Top 100 company fourteen times in the past years and has received honors from Gartner, IDC and ChinaSourcing. CIeNET has ISO9001 and 27001 certification and CMMI3 certificate with Agile-based processes. For more information, visit www.cienet.com.
Press Contact
Marketing Department
010-84170088