Beijing, September 2022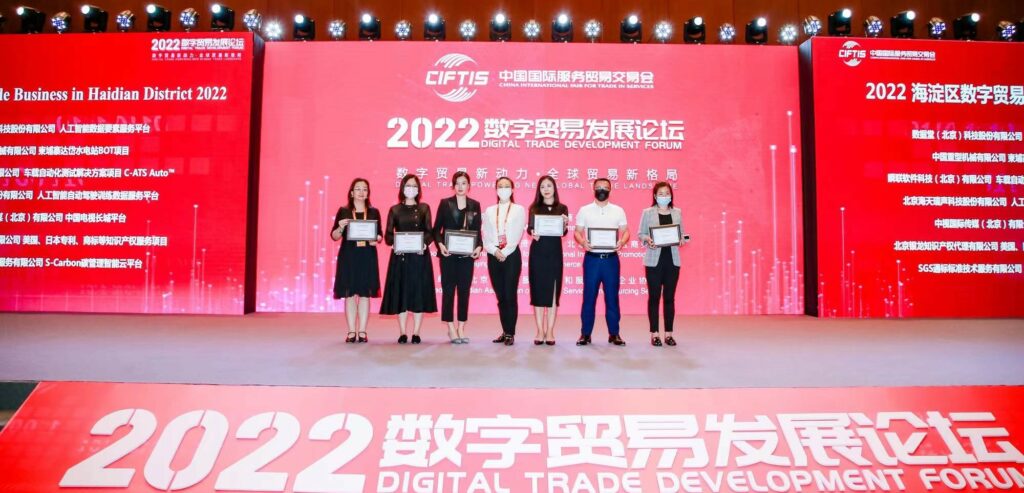 CIeNET was invited to attend the 2022 Digital Trade Forum, where CIeNET was recognized as one of the "2022 Key Service Trade Providers" and "2022 Model Digital Trade Businesses." The theme was creating the new driving force for digital trade and having a new global outlook. It is an international exchange platform to promote the construction of regional digital ports with the theme of digital trade development.
Currently, under the leadership of digital technologies such as AI, 5G, blockchain, big data, and quantum technology, a new round of technological revolution is driving major disruptive changes in the automotive industry. CIeNET focuses on creating solutions with these technologies and in relevant industries which are a part of this change.
The evolution of the 21st-century automobile is creating increased pressure for automakers to deliver a superior in-car experience for passengers and drivers alike. The rapid development of in-car digital technology is creating new challenges for software development and redefining the emphasis placed on testing and quality assurance.
CIeNET addresses these important challenges that OEMs and Tier 1 companies face by providing best-in-class solutions leveraging our CIeNET Automated Test System for Automotive (C-ATS Auto™).
In the list issued by this forum, CIeNET, with its self-developed in-vehicle automated test solution: C-ATS Auto™, was selected as a Model Digital Trade Business in 2022, demonstrating CIeNET's profound R&D strength in the automotive field. At the same time, CIeNET's high-quality service and delivery helped CIeNET to be selected into the 2022 list of key enterprises in trade services, which also reflects CIeNET's long-standing customer-oriented service philosophy.
About CIeNET
CIeNET, an ALTEN Group Company, is a global information technology software development, consulting, and solutions company. Founded in 2000, CIeNET focuses on mobility, embedded systems, and enterprise software technologies delivering services from development centers with customer support offices in North America, Europe, and Asia. CIeNET provides innovative solutions from concept to reality by helping customers bring ideas and products to market quickly and cost-effectively. CIeNET has been recognized by the International Association of Outsourcing Professionals (IAOP) as a Global Outsourcing Top 100 company fourteen times in the past years and has received honors from Gartner, IDC and ChinaSourcing. CIeNET has ISO9001 and 27001 certification and CMMI3 certificate with Agile-based processes. For more information, visit www.cienet.com.
Press Contact
Marketing Department
010-84170088