August 2022
CIeNET, the leading global technology service provider for technical consulting, software engineering, and software solutions, was recognized as one of the Most Influential Offshore Service Outsourcing Enterprises in 2021-2022 by ChinaSourcing.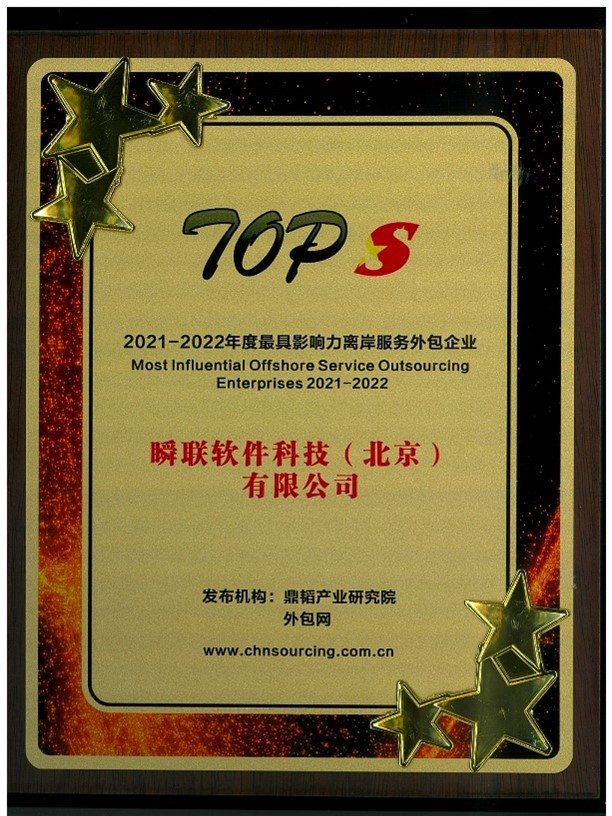 CIeNET has comprehensive experience in offshore R&D services and overseas project transfer. CIeNET has offices and R&D centers in major cities in Greater China, the United States, and Canada, and focuses on mobility, embedded systems, and enterprise software technologies. Being selected as the Most Influential Offshore Service Outsourcing Enterprise is an affirmation of CIeNET's strengths and technical capabilities in the software outsourcing industry. Since 2000, CIeNET has successfully transferred many overseas and international customer projects to China for execution and has been cooperating with projects for more than 20 years. CIeNET provides services to customers with its professional technical competencies in various fields and helps customers solve various complex problems and technical difficulties.
About TOPs
First launched in 2007, China TOPs selection is one of the most authoritative and professional industrial selections for service providers in China. China TOPs lists have become important references for domestic and international companies to select from China's service and business partners. The rankings are based on company size, growth, management capabilities, demonstrated competencies, corporate branding, and innovation.
About CIeNET
CIeNET, an ALTEN Group Company, is a global information technology software development, consulting, and solutions company. Founded in 2000, CIeNET focuses on mobility, embedded systems, and enterprise software technologies delivering services from development centers with customer support offices in North America, Europe, and Asia. CIeNET provides innovative solutions from concept to reality by helping customers bring ideas and products to market quickly and cost-effectively. CIeNET has been recognized by the International Association of Outsourcing Professionals (IAOP) as a Global Outsourcing Top 100 company fourteen times in the past years and has received honors from Gartner, IDC and ChinaSourcing. CIeNET has ISO9001 and 27001 certification and CMMI3 certificate with Agile-based processes. For more information, visit www.cienet.com.
Press Contact
Marketing Department
010-84170088