Mobile Automation Test System (MATS), a comprehensive automation test platform for smart devices developed by CIeNET Technologies, is named 2015 China's TOP 100 Best Innovative Practice for Business Application by Devott, a think tank and research arm in China's outsourcing sector.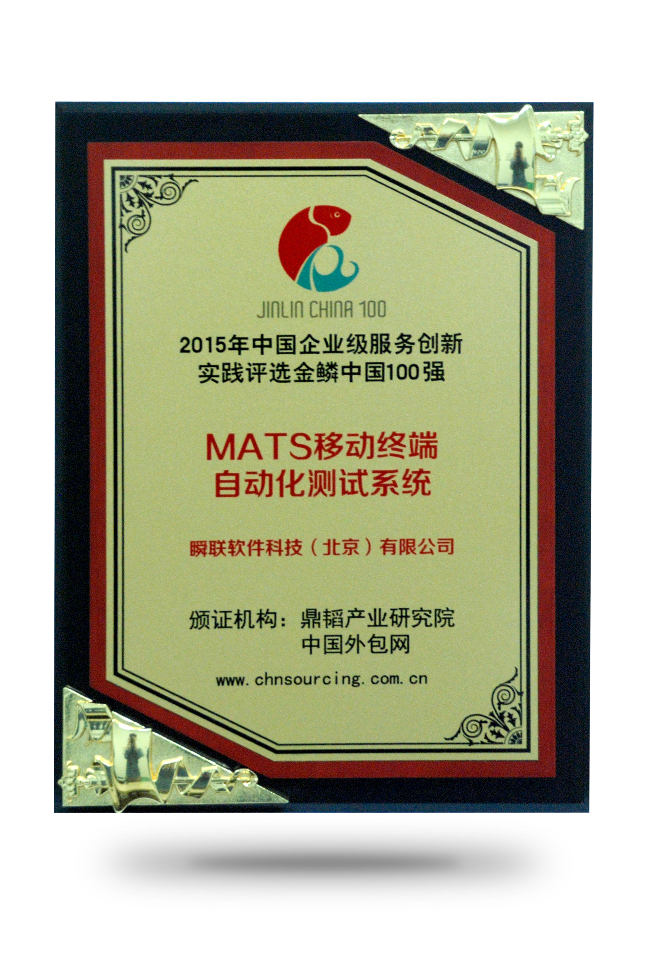 The awarded solution consists of three components, namely the Task Management System, Node, and Integrated Development Environment (IDE), all of which are developed specifically to manage and execute the automation test process of both Android and iOS powered devices. It features easy-to-use scripts, a visualized interface, and fully supports device connections via Ethernet, USB and WiFi. With the deployment of MATS, smart device manufacturers can realize up to 70% automation test coverage in its test cycle, which can significantly reduce the time-to-market as well as lower test costs.
With three major version upgrades, MATS has evolved into a mature and complete automation test platform for multi-national manufacturers. MATS both understands and addresses the needs of global companies, and has developed a rich variety of test tools to address these challenges. One example is MATS' newly added remote test tool (RTT), which helps multi-national companies manage their multi-location tests like a global relay race, and thus substantially maximizes the utilization of test resources and reduces the time of global delivery. Another awarded innovation is macro-operation, which was developed to further simplify redundant scripts in the test cycle so that the complexity of the scripts will be reduced and therefore less test time is needed. In order to improve test result accuracy and automation rate, pic/image comparison was introduced in the latest MATS version to allow comparison by screen capture rather than the typical text and object on UI for result verification.
"It's our honor to be named for this award by Devott. It is a recognition of our endeavor to create more innovative solutions. As an IT outsourcing company for 15 years, we're always seeking ways to evolve our technological competence. This award for MATS has been very rewarding in that sense," said, Wang Lan, Vice President of CIeNET. She continued, "MATS has been used by a number of world-class smart device manufacturers from both Japan and American, and has helped strengthen their competitiveness in the market. We understand that this year the smart device manufacturers will continue to experience another wave of challenges from the changing needs of customers and growing uncertainties in the market. We're confident MATS shall continue to help our current and new customers win the market."
About CIeNET
CIeNET, an ALTEN Group Company, is a global information technology software development, consulting, and solutions company. Founded in 2000, CIeNET focuses on mobility, embedded systems, and enterprise software technologies delivering services from development centers with customer support offices in North America, Europe, and Asia. CIeNET provides innovative solutions from concept to reality by helping customers bring ideas and products to market quickly and cost-effectively. CIeNET has been recognized by the International Association of Outsourcing Professionals (IAOP) as a Global Outsourcing Top 100 company fourteen times in the past years and has received honors from Gartner, IDC and ChinaSourcing. CIeNET has ISO9001 and 27001 certification and CMMI3 certificate with Agile-based processes. For more information, visit www.cienet.com.
Press Contact
Marketing Department
010-84170088